Being created in the image and likeness of God, the Blessings Art classes are a time to explore the blessings God has for us through visual art. It's an opportunity for any adult or or teen enjoy a creative time with others, and for just a small supply fee.
This season, the Blessings Art Classes are focusing on a garden theme. We will be following the garden blog that Pam Pierce is sending out each month, and we will be using Isaiah 35:1-2 as a reference:  "The desert and the parched land will be glad; the wilderness will rejoice and blossom. Like the crocus, it will burst into bloom; it will rejoice greatly and shout for joy…"
Teachers: Mindy Faubion and Kathie Chan
Sign up in the Arbor on Sunday mornings or email Mindy Faubion.
This Month's Blessings Art Class
The March Blessings Art Class project is a bamboo Wind Chime.
Since we were unable to meet in the studio this month, Mindy and Kathie prepared a video for you to do the project at home.
If you are in the area, contact Mindy in order to pick up the bamboo (while supplies last) or order a kit online.
Thursday, April 16 (if not postponed)

9:30am-12pm  or  6:30pm-9pm
$10 supply fee
Theme:   Coming Soon
Project: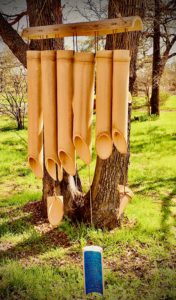 January 23
February 20
March 19
April 16
May 21
June 25
July 23
August 20
September 24
October 22
November 19
December 17