Being created in the image and likeness of God, the Beulah Art classes are a time to explore the blessings God has for us through visual art. It's an opportunity for any adult or or teen enjoy a creative time with others, and for just a small supply fee.
Teachers: Mindy Faubion and Kathie Chan
Sign up by email to Mindy Faubion.
Tuesday Nights ~   6pm – 8:30pm
$15 per class

FEBRUARY
Introduction to Pastels
Feb 1, 8, 15, 22
6pm – 8:30pm
$15 per class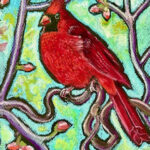 MARCH
Linoleum and Wood-block cutting and printing
March 1, 8, 15, 22, 29
6pm – 8:30pm
$15 per class

Oil pastels.
The theme is Hearts Made Aware and on Fire.
Luke 24:32
Paper Collage.
The theme is Proclaim.
Tissue Paper Collage.
The theme is Transformation!